ABOUT
Hello and thank you for visiting my website!
My name is Dave and I am an artist who makes both traditional and digital arts, usually of pets, animals, and fantasy/sci-fi creatures. Sometimes I do fanart and other subject matters depending on my mood. My art style can be quite diverse. I like to draw cartoon in a 90s nicktoon style but I also like to draw my subjects realistically or draw them in a style similar to the Medieval marginal art or even use some coloring technique of impressionism. Drawing has been my passion since I was very young.
The mediums I usually use for traditional arts are colored pencils, graphite pencils, sharpie markers, and nib pens/brush with black india ink. For digital paintings, I usually draw first with a pencil, scan it to a computer, and then use an art software called Krita to add in the colors, shades, etc. I may also explore other creative art forms, such as paintings, vector program, animation, etc. I enjoy trying new things that will help boost my creativity and improve my skills as an artist.
Before I named this site Nyahoo Studio, it was originally called Dave 'n Doggy. At first, I intended to use this site to promote my dog walking business but I figured it would be better and easier to use a special app for that instead. So I decided to make this website a place where I can post my artworks. It is also a blog in a way since I kind of make commentary about my work in the image's dropdown. Also I felt funny about the name 'doggy' since it has several meanings, some of which are inappropriate...lol. I wanted to change the website name to Nyahoo Studio after my old and now defunct blog that I used to have. The name, Nyahoo, is based on a Japanese onomatopoeia for meow, which is 'nya', and an English interjection 'yahoo!'
I want to dedicate this website to my dog Nugget. Sadly, he crossed the rainbow bridge and it really broke my heart. He was always a great friend and I miss him so much. I had been very hesitant to start a new art website or a new blog or any social media platform and ended up procrastinating for way too long. My dog inspired me to start this website and for that I am deeply grateful to him. Even though he is no longer with me, he will always be in my heart and in my memory. He was a very special dog and I love him dearly. May he rest in peace.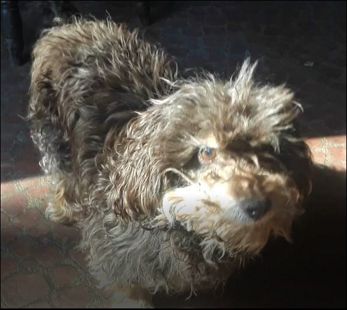 My friend Nugget
---
Contact Info:davendoggy@gmail.com